Working Principle
The machine consists of peening nozzles, abrasive handling system, shot filtration system, vibro-sieve for shot size classification and precise shot flow control valves. The machine is also equipped with a dedicated cartridge type dust collector for efficient dust removal. The parts are shot peened in cycled rotary operation. During the peening process the component / stack rotates around its axis and is peened thoroughly. The peening is achieved either by reciprocation or stacking of stationary nozzles or both in such a manner that complete coverage of the peening area is achieved.

The process parameters can be adjusted and monitored through the machine interface with advanced capabilities like report generation, SCADA, etc.
The machine is available in 3 configurations, single door, double door or turnstile type.
Features
Customized nozzle motion control systems to suit individual specific requirements.
Euom Valve - Electromagnetic servo controlled valve for precise shot flow control.
Special dual stage seals to ensure zero shot and dust leakages from the blast chamber.
Robust and low maintenance machine.
Easy accessibility to all maintenance areas.
Exceptional high life of wear parts.
Fool-proof and intelligent machine control systems.
Optional Features
Servo controlled rotary head for nozzle angle control.
Mn. Steel Blast Chamber
Sound insulation enclosures
Automated/robotic part handling systems.
CNC Control
Spiral Separator to separate round shots from non-round ones.
Multiple Media handling in a single machine.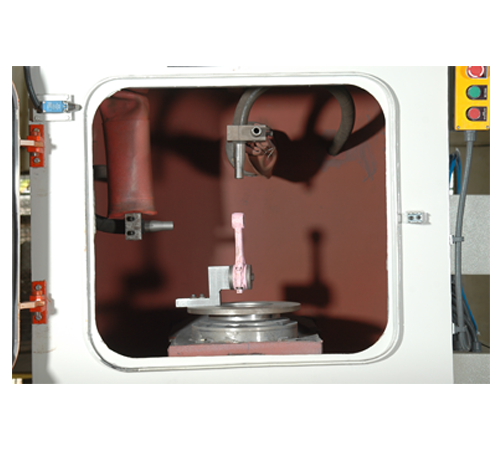 Vibro Screens
Vibro Screens are designed to perform effective size based separation in coarse as well as fine sizes. Vibro Screens use wire mesh or perforated or slotted sheets for carrying out separation of material on basis of size. They are designed on the principle of Gyratory Motion. Vibro screens allow remove the unacceptable sized shots/particles from the machine. The particles which are larger than the designated shot size can cause damage to the component and create dents. On the other hand, under-sized particles shall deteriorate the shot peening intensity and make the system incapable of generating the desired compressive stresses.
For Shot Peening Applications
Vibro screens are mandatory in shot peening applications as the shot size is very crucial factor for permanent stress generation. The correct size shots will only create the desired stress pattern in the component.